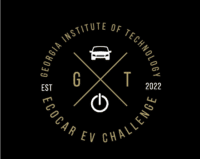 GEORGIA TECH
The Georgia Tech EcoCAR EV Challenge Team is made up of 65+ engineers, ranging from Marketing/Supply Chain to Computer Engineering and Mechanical Engineering. Our engineers, along with three specializing faculty advisors, are continuing with this ambitious mission to transform a 2023 Cadillac LYRIQ into a next generation battery electric vehicle (BEV) that utilizes automation and vehicle-to-everything (V2X). This process will involve adaptations of some of the automotive industry's current areas of innovation: advanced propulsion systems, connected and automated vehicle (CAV) technologies, and other innovative technologies to analyze energy efficiency.
The implementation and development of these technologies are targeted with the primary goals of improving fuel economy, reducing emissions, increasing safety, and enhancing the overall experience of mobility.
Georgia Tech's team strives to create a safe and efficient vehicle and an inclusive and positive team environment throughout the four-year program. The team will root DEI into its core principles and ensure that every team member feels at home on the team. The team will help its members to grow their skills both professionally and technically to provide them with the best career possibilities post-graduation.
GOALS
We strive to create a team that enjoys what it does and has continued retention of students throughout the four-year program.
We are looking for a team that embodies and integrates Diversity, Equity, and Inclusion consistently and effectively.
We are looking to grow our students in terms of their skills, professionally, and whatever avenue they choose to pursue.
Lastly, we are looking to be competitive in the competition and try to keep our winning streak!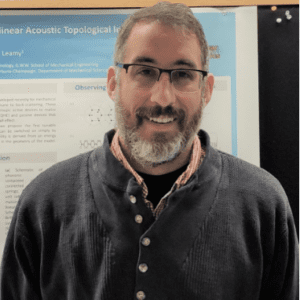 Dr. Michael Leamy
Lead Faculty Advisor
Michael J. Leamy joined the George W. Woodruff School of Mechanical Engineering, Georgia Tech, as an Assistant Professor in August 2007. He was later promoted to Associate Professor (2012) and Professor (2018). He received his B.S. from Clarkson University (1993), and his M.S., and Ph.D. (1995, 1998) from The University of Michigan, Ann Arbor, all in Mechanical Engineering. Professor Leamy's research interests are in emerging and multidisciplinary areas of engineering science, with an emphasis on nonlinear dynamical behavior in structures, materials, and complex systems. Emerging engineering materials of particular interest include acoustic metamaterials, topological insulators, and reciprocity-breaking nonlinear lattices. Other nonlinear dynamical systems of interest include hybrid vehicle powertrains and vehicle accessory drives.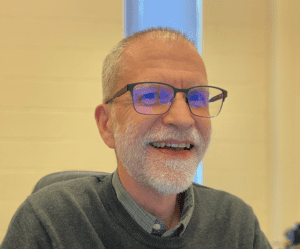 Dr. David Taylor
Lead Faculty Advisor
David Taylor received his BS degree from the University of Tennessee, and the MS and PhD degrees from the University of Illinois, all in Electrical Engineering. He has been on the ECE faculty at Georgia Tech for 34 years, and he has been serving as a faculty advisor on Georgia Tech's EcoCAR team for 12 years. His teaching and research focus on control systems theory and applications, and his EcoCAR activities focus mainly on the PCM and CAV sub teams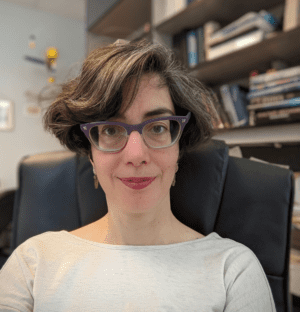 Dr. Antonia Antoniou
Faculty Advisor
Dr. Antoniou is a Professor in the Woodruff School of Mechanical Engineering. Her research is focused on thermomechanical testing and reliability of electronics and structural components. She led the development of NCorr, the most used open-source digital image correlation code built in MATLAB, which provides experimental measurements of material deformation and strain across scales. Dr. Antoniou served as the inaugural member and subsequent Chair of the Georgia Tech College of Engineering Diversity and Inclusion Council. The Council's mission is to identify and advocate on issues of Diversity, Equity and Inclusion for faculty, staff and students across the College of Engineering.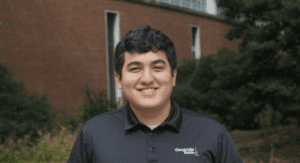 Eamon Flaherty
Project Manager
I am a second-year mechanical engineering master's student, having also gone to Georgia Tech for my undergraduate mechanical engineering degree. I have been on the team for 6 years, have been the Propulsion Systems Integration lead for 1.5 years, and have been project manager for a year. I have participated in EcoCAR3, EcoCAR Mobility Challenge, and now EcoCAR EV Challenge.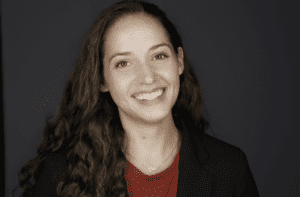 Sydney Davis
Communications Manager
I am a 5th year Business Student pursuing my Undergrad concentrating in Operations and Supply Chain Management with a minor in Marketing. I have been a part of the team as the Communications Manager since fall of 2020.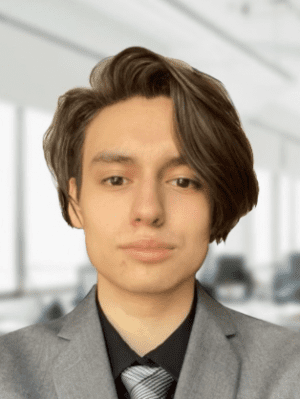 Angel Garcia
Communications Manager
I am a third-year mechanical engineering undergrad student at Georgia Tech, concentrating in design. I recently joined the EcoCAR team this year.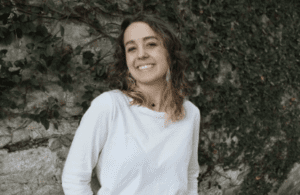 McKaela Kramer
Communications Manager
I am a fourth year LMC undergraduate student at Georgia Tech specializing in Literature and Communications. This is my first year on the EcoCAR team.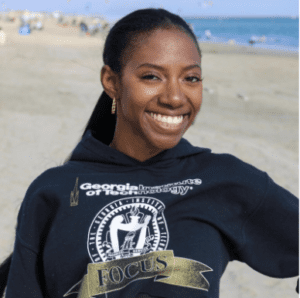 Michelle Warren
Diversity, Equity, & Inclusion Manager
Hello! I'm Michelle Warren. I'm a second year Electrical Engineering PhD student with 5+ years of industry experience in research and development. I've contributed and spearheaded autonomous perception projects and machine learning projects at Boeing and Lawrence Livermore National Labs. My focus for my PhD is in both Digital Signal Processing and Bioengineering.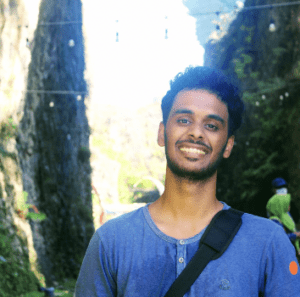 Prathik Reddy
Systems, Design, & Integration Lead
As a first-year PhD student in Mechanical Engineering Department at Georgia Tech, I am a new addition to the EcoCAR team. I graduated from IIT Bombay this year with bachelor's and Master's degrees in Mechanical Engineering.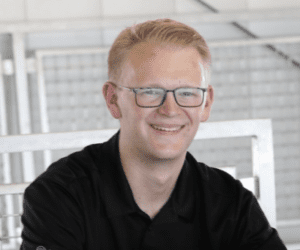 Braeden Dickson
Propulsion, Controls, & Modeling Lead
I am a first-year masters student studying computer engineering. I also went to Georgia Tech for my undergraduate degree in computer engineering. I have been on the team for four years and have worked on both the EcoCAR Mobility Challenge and now the EcoCAR EV Challenge.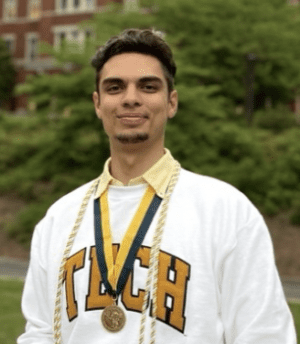 Laurence Leon
Connected Automated Vehicle Systems Lead
I am a first-year master's student in the school of electrical and computer engineering at Georgia Tech. I received a Bachelor of Science in electrical engineering from Georgia Tech, during which I focused on controls and was a part of the EcoCAR Mobility Challenge team during Spring 2021.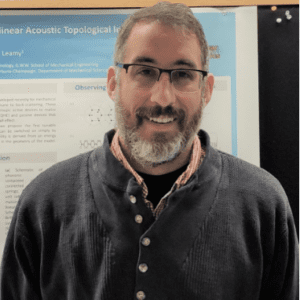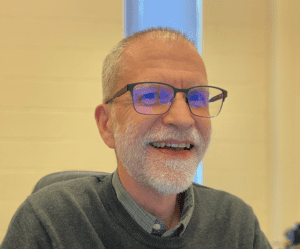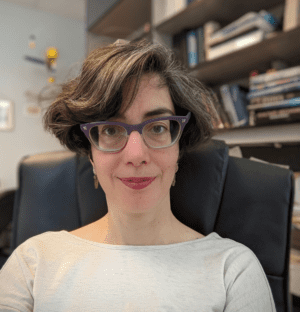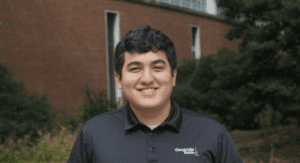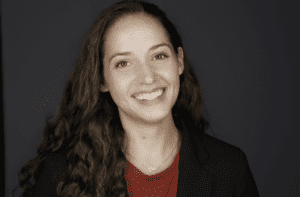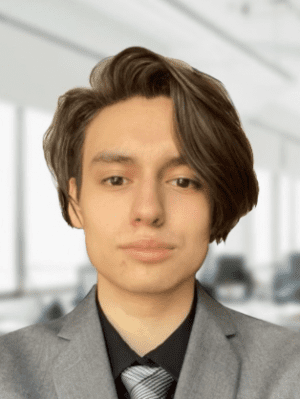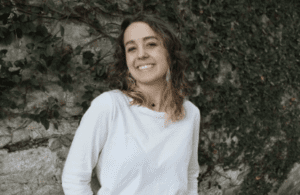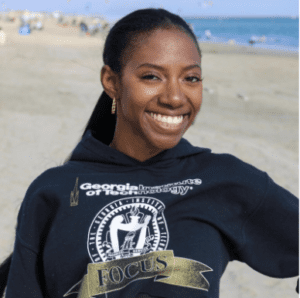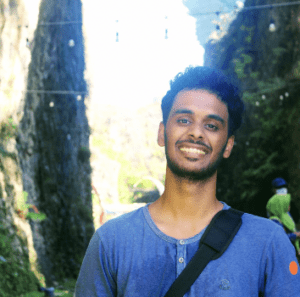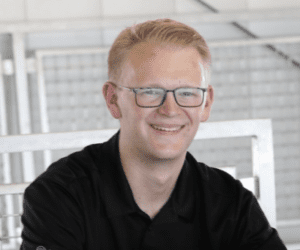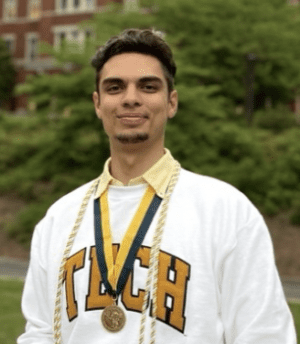 The Georgia Tech EcoCAR team operates through the Vertically Integrated Projects (VIP) program. Students wishing to join the team can check out our team wiki any time here and submit an application to sub-teams you are interested in using the sub-team specific google forms found on the wiki here. New members are admitted to the team the week before the start of each semester. We meet weekly on Thursdays from 11-11:50 in Klaus 1440. Students who have applied for the sub-teams will be contacted for a brief introduction and the next steps will be discussed then. Interested students can also reach out to our communications team, Angel Garcia, at agarcia330@gatech.edu with any questions about opportunities on the team or the onboarding process.
North Ave NW, Atlanta, GA 30332