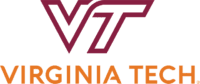 Virginia Tech
The Hokie Electric Vehicle Team competes in 4-year engineering design competitions, with the aim of developing confident and skilled automotive engineers through hands-on real-world experiences. HEVT has been competing in Advanced Vehicle Technology Competitions since 1994 and is currently competing in the EcoCAR EV Challenge Year One, a North American inter-colligate competition headline sponsored by General Motors, MathWorks, and the U.S. Department of Energy.
The overarching goal of the current competition cycle for HEVT is to incorporate advanced propulsions systems and connect automated vehicle technology, aiming to improve energy efficiency, safety and consumer appeal in the growing SUV market while simultaneously identifying and addressing equity challenges in mobility. With the initiation of EV Challenge, HEVT is aiming towards building a strong team under the guidance of our lead faculty advisor Dr. Scott Huxtable, to tackle the novel challenges with electric vehicle architectures, setting new procedures and creating a healthy and inclusive work environment. 
HEVT will focus on establishing standard procedures such as technical training, team meetings, procurement process, defining roles and responsibilities and internal team communication protocols to ensure team success
HEVT will develop a workflow process for each engineering sub-team that will support in establishing solid propulsion and sensors architectures to continue to build upon in future competition years
HEVT will build an inclusive, motivating environment that will help recruit new members as well as build commitment in current team members by helping to achieve personal goals as while as providing an enriching learning experience during their time working with the team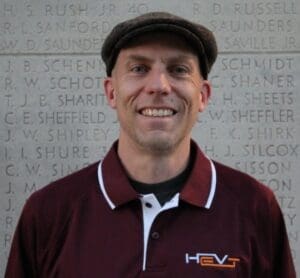 Dr. Scott Huxtable
Lead Faculty Advisor
Scott Huxtable is an Associate Professor in the Department of Mechanical Engineering at Virginia Tech. He received his BS degree in Mechanical Engineering from Bucknell University in 1997 and his MS and PhD degrees in Mechanical Engineering from the University of California at Berkeley in 1999 and 2002, respectively. Before joining Virginia Tech in 2003, he spent a year as a post-doctoral research associate in the Materials Science Department at the University of Illinois at Urbana-Champaign. His research interests include electric vehicles, thermal management in power electronics, and nanoscale thermal transport.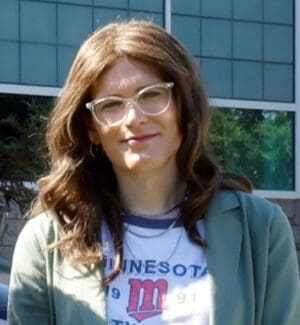 Dr. Ryan Gerdes
Connected Automated Vehicle Systems Faculty Advisor
Dr. Ryan Gerdes is an Associate Professor in the Department of Electrical and Computer Engineering at Virginia Tech. She received her BS degree in computer engineering, her M.Eng. in electrical engineering, and her Ph.D. in electrical engineering, all from Iowa State University. Dr. Gerdes has received the Teacher of the Year Award from Utah State University's Department of Electrical and Computer Engineering in 2015 and 2013, and the National Science Foundation's Creating Effective Future Faculty in Engineering Award. Her research interests include, Operation of autonomous systems, Device fingerprinting, Embedded systems security Sensor security, Controls security, Cybersecurity and Cyber-physical systems security.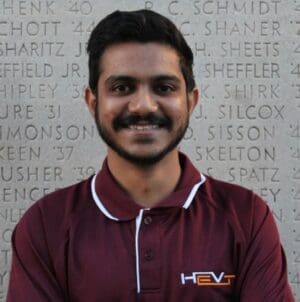 Soham Dange
Project Manager
Soham Dange is a graduate student pursuing his MS in Mechanical Engineering at Virginia Tech. He received his bachelor's degree in Mechanical Engineering from Savitribai Phule Pune University in 2018. Before joining Virginia Tech, he worked on IC Engine design and Electric Vehicle Development. In the COVID-19 DELTA wave, Soham worked on accelerated development and commercialization of Oxygen Concentrators to assist supplying public health centers during pandemic relief efforts. His research interests focus on Electric Vehicle Technology, specifically Energy Storage Technology and Propulsion Controls. Additionally, he has been part of a NGO for the past seven years, leading efforts in Science Education and Science Popularization in rural communities in India.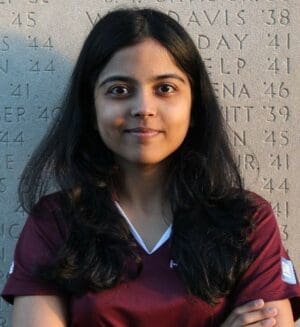 Prajakta Wale
Technical Specialist
Prajkata Wale is a first-year graduate student at Virginia Tech pursuing her MS in Mechanical Engineering with a thesis track. She received her bachelor's degree from Savitribai Phule Pune University in 2022. During her undergraduate studies, she worked on robotic simulation and classical control systems. Her research interests include perception and control of autonomous vehicles.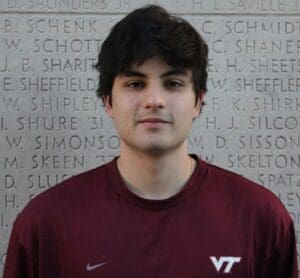 Enzo Cabanas
Communications Manager
Enzo Cabanas is a junior at Virginia Tech studying Advertisement with a concentration in Business Marketing. Enzo worked as an intern at P2W working with the owner and sales team to document business processes and leads that saved and generated income. He holds certifications in DMS, Social Media Management, Data Analytics and visual presentation tools. He currently works as the HEVT communications manager.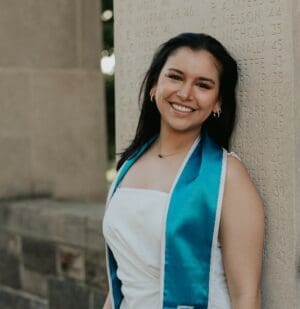 Maria Alejandra Segura Betancourt
Eiversity, Equity, & Inclusion Manager
Maria Alejandra Segura Betancourt is a second-year Master of Arts candidate in Political Science at Virginia Tech. She received her BA in Political Science, Legal Studies and a BA in Public Relations, Communication from Virginia Tech in May of 2022. She currently serves as a university course instructor teaching Global Environmental Issues and Policy in the Political Science Department at Virginia Tech. She is passionate about representing marginalized groups through the creation of strong relationships and effective communication. Her research interests include equity and diversity, Latin(x) studies, abolitionist reform, environmental justice and human rights policy and advocacy. After graduating with her Masters in May of 2023, she plans on furthering her education by attending law school.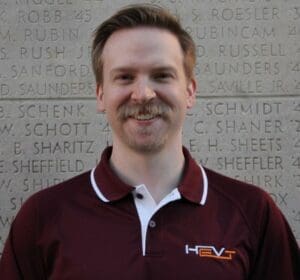 Max Schafer
Systems, Design, & Integration Lead
Max Schafer is a class of 2023 mechanical engineering major. He is currently a member of Virginia Tech's HEVT team, leading the system of dynamics and integration sub team. This year, his team will be pushing the boundaries and expertise of HEVT's vehicle integration setting Virginia Tech up for success in all four-years of the EV Challenge. Max enjoys woodworking, technology, games and time with family. His dog, Wolf, a one-and-a-half-year-old German shepherd, loves to play fetch and tackle him all day.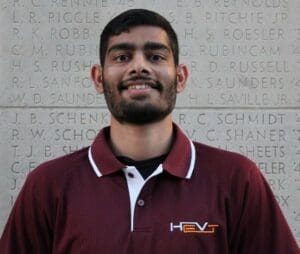 Sopan Kane
Propulsion, Controls, & Modeling Lead
Sopan Kane is a first-year graduate student pursuing his MS in Mechanical Engineering at Virginia Tech. Sopan is currently the Propulsion Controls and Modeling GRA for HEVT. In 2021 he graduated with his bachelor's degree in Mechanical engineering from Pandit Deendayal Petroleum University. He is very passionate about robotics and controls; he is working on gaining advanced knowledge on these subjects to apply it towards the future of green mobility.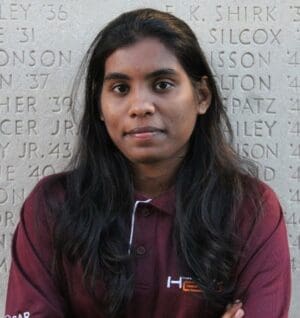 Prarthana Doshi
TitleConnected Automated Vehicle Systems Lead
Prarthana Doshi is the CAVs Graduate Research Assistant for the Hokie Electric Vehicle Team at Virginia Tech. She is an accomplished coder and programmer and enjoys using her skills to contribute to the exciting technological advances happening every day at HEVT. She graduated from the Vishwakarma Government Engineering College in 2021 with a bachelor's degree in Power Electronics Engineering. Additionally, Prarthana has experience in analog circuit design and developing power electronics hardware.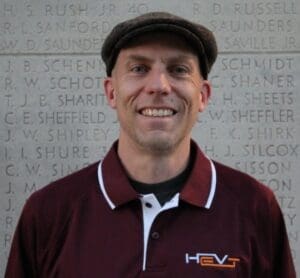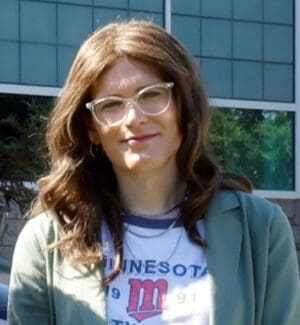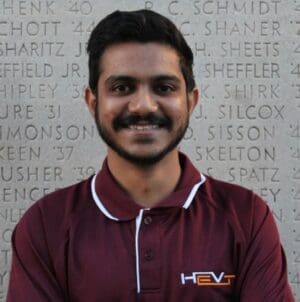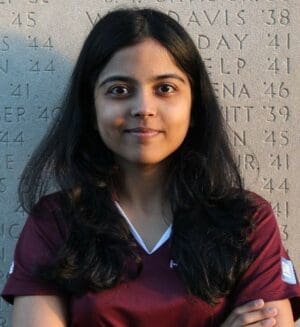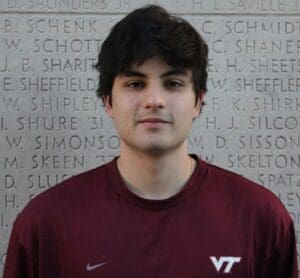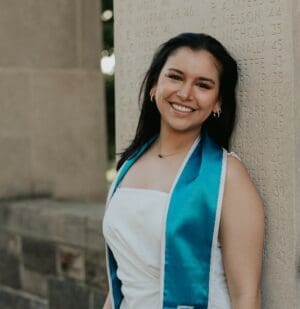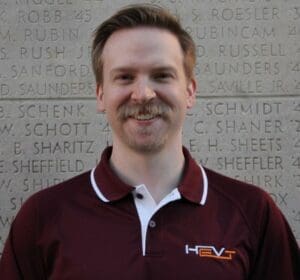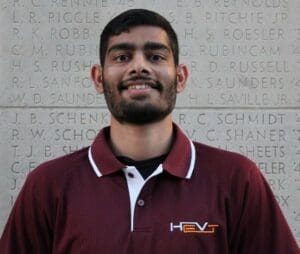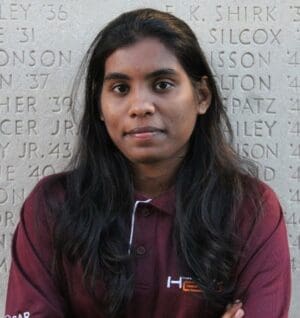 We are always looking to add junior members to our technical and non-technical sub teams! Please reach out via email to get involved. HEVT meets on Monday nights at 7 p.m. in Goodwin Hall room 125.
Sub Teams –

Propulsions Control and Modelling
Systems Design and Integration
Connected and Automated Vehicles
Systems Safety
Communications
Diversity, Equity and Inclusion
Torgersen Hall, 3046, 0217), 620 Drillfield Dr, Blacksburg, VA 24061 
Soham Dange (PM, HEVT)
hevt@vt.edu or sohamdange@vt.edu