The EcoCAR Excellence in Leadership Award recognizes the skills that are critical for engineers, project managers and communicators to be successful within the EcoCAR project and throughout their careers.
This award is presented to students who are nominated by their peers who exemplify and model leadership capabilities on their EcoCAR team. The nominees are those who demonstrate the ability to mentor fellow students, create opportunities for engagement and involvement, communicate effectively, think critically and creatively, articulate a positive sense of direction, and evoke optimism in their peers.
The judges were impressed with all of the candidates nominated this year, especially the testimonials from their fellow peers and their faculty advisors.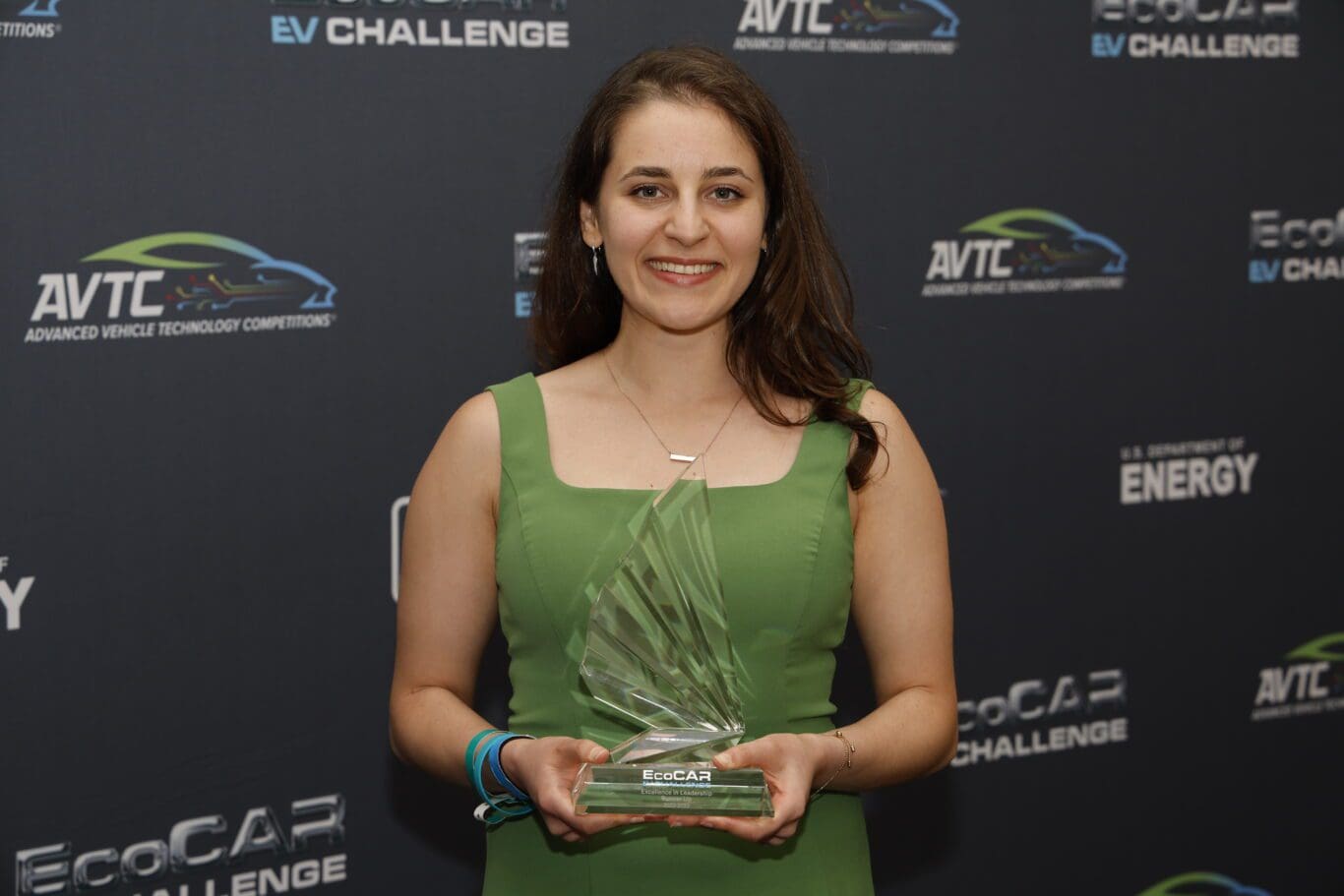 McMaster University's Nilou Keshmiri is this year's recipient of the Excellence In Leadership Runner-Up Award. According to her teammates, Nilou provided a critical role in transitioning their team from the previous EcoCAR Mobility Challenge to the new EcoCAR EV Challenge. As the Project Manager, she set ambitious goals such as featuring women in STEM prominently as part of the team's initiative to increase women's representation from 27% to 40% by Year 4 of the EV challenge.
According to her teammates, Nilou's leadership style was integrated into all aspects of their team and featured the following elements: Accountability, Empathy, and Empowerment
Her team had this to say:
"Nilou is always there to answer any questions and help each team member find a place on the team that fits their skills and helps them grow both professionally and academically."
"In my personal experience, having been on the team for three years with three different project managers, she has been the best one we've had by far. "
"The road to success in year 1 was full of hurdles for our EcoCAR team, but her excellent leadership and guidance as the PM gave us the support and confidence to overcome each and every one. The delicious homemade baked goods she brought into the lab for the team were a lovely bonus."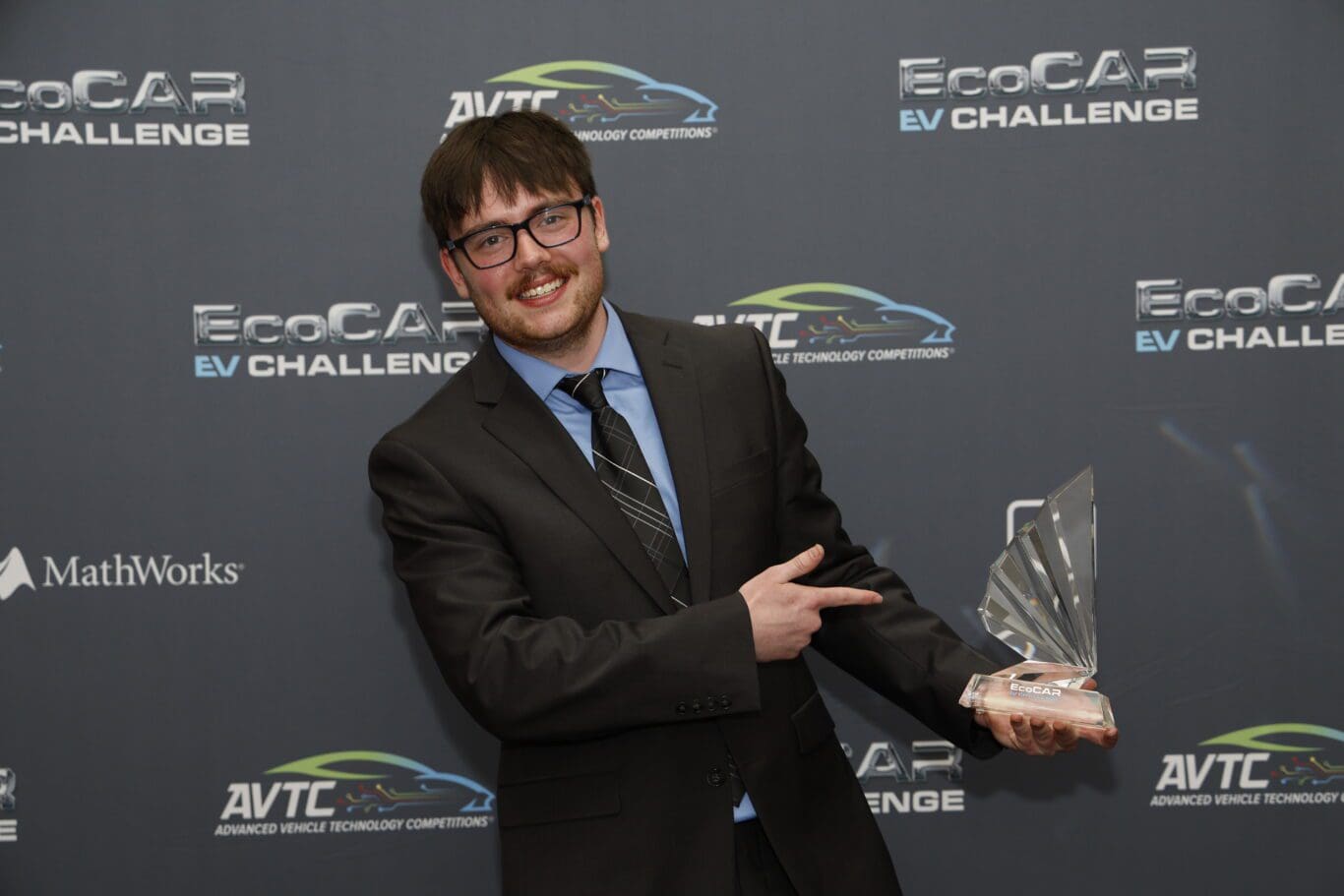 This year's winner of the Excellence in Leadership Award was West Virginia University's Engineering Manager, Colin Kellett. According to the testimonial from his team members, Colin exemplifies the spirit and strength of the Mountaineers of West Virginia University and "brings positivity into every room that he is in and lets everyone's voices be heard. He makes sure that everyone feels included and leaves no one behind."
Colin has been a member of the WVU EcoCAR team for 5 years, and has served as an Engineering Manager for 2. Colin has demonstrated exceptional leadership skills and helped foster a positive learning environment, where open communication and mentoring has been emphasized to promote effective teamwork and proficient student learning. As Engineering Manager, Colin created documentation for all the students to reference in order to gain a holistic understanding of the program as well as their individual role. To ensure every student was knowledgeable and passionate about their role, would have the opportunity to increase their personal learning, and provide valuable work for the team, Colin used an initial survey to place students in teams that were relevant to their interests.
The WVU team testimonies emphasized Colin's impact:
"Without Colin's guidance I would not have achieved what I have on the team and in my life. I can only hope in my future on the EcoCAR team that I can be as impactful as a leader"
 "Colin's attitude and dedication toward the WVU EcoCAR team will live on for many years to come, inspiring both undergraduate and graduate members to do the best that they can."
And finally, their faculty had this to say about their leadership:
"Without a student like them, the WVU EcoCAR team would not be able to achieve success year in and year out. At times, I felt like they were taking my job as faculty advisor."
Congratulations to Colin and Nilou for this outstanding recognition.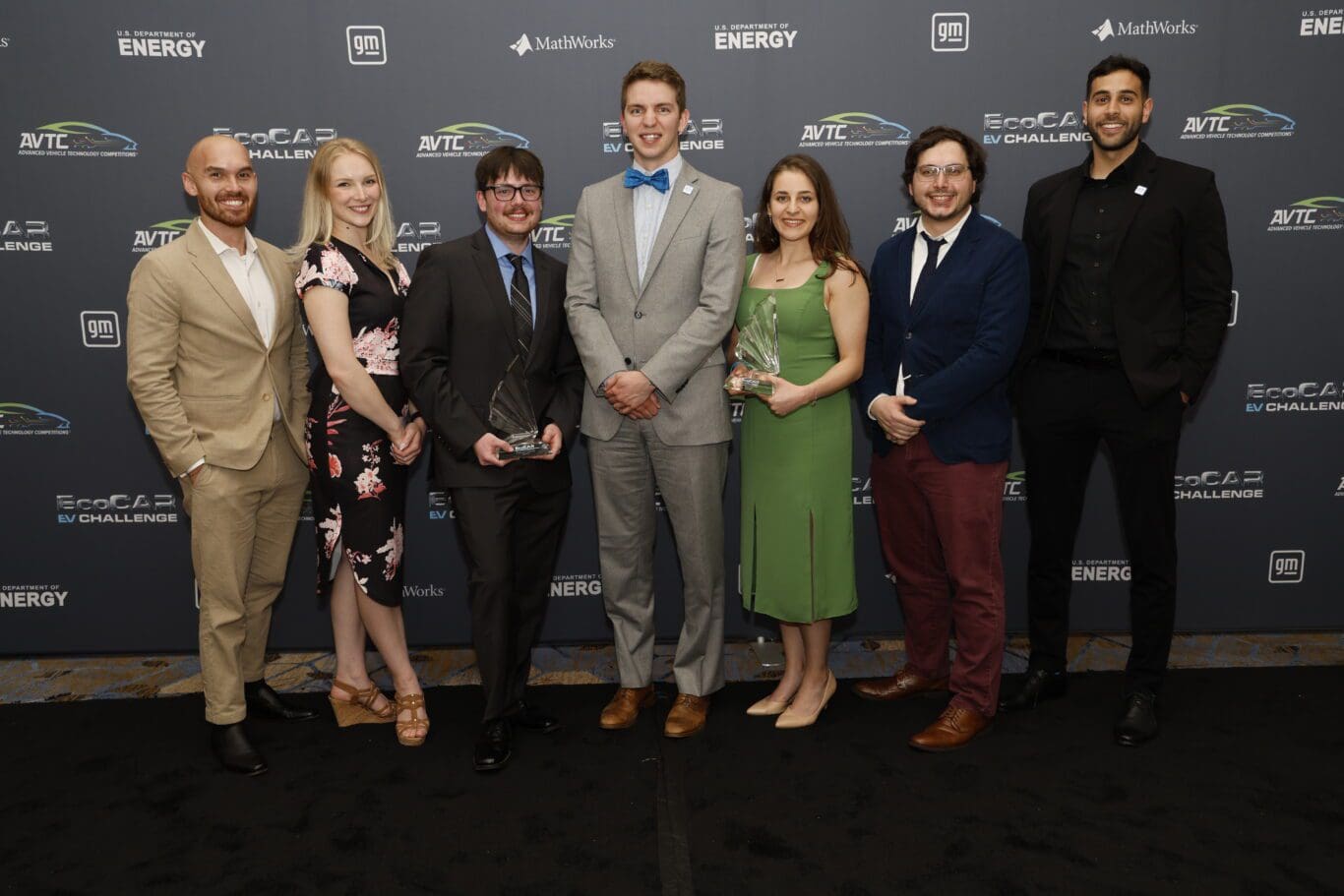 Congratulations to all the Excellence in Leadership Award nominees:
Devon Vail, Embry Riddle and Bethune Cookman
Douglas Turner, Embry Riddle and Bethune Cookman
Molly Mersinger, Embry Riddle and Bethune Cookman
Nilou Keshmiri, McMaster University
Timothy Munrow, Mississippi State University
Kamryn Russell, Ohio State University and Wilberforce University
Jacqueline Garrido, University of California, Riverside
Max Schafer, Virginia Tech
Colin Kellett, West Virginia University