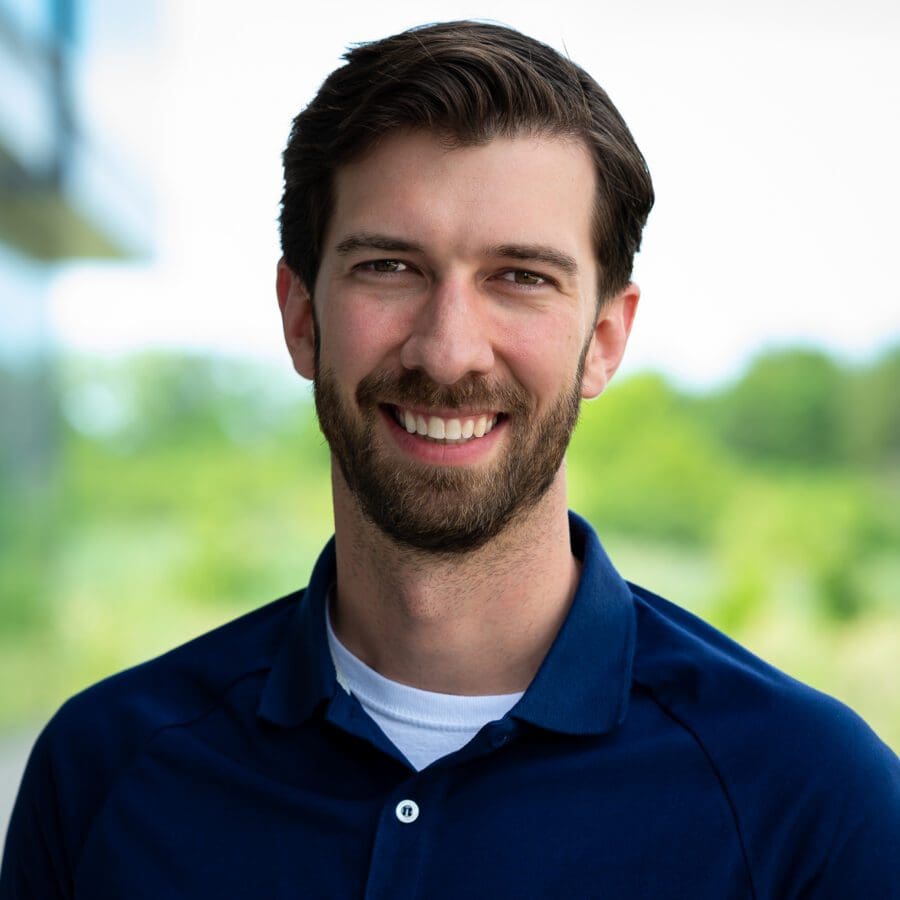 Nick Moore recently joined Argonne National Laboratory as the AVTC Technical Project Engineer to lead the EcoCAR EV Challenge technical subteams for the new competition series.
 For the past six years Moore has worked at the Ford Motor Company as a Hybrid Powertrain Calibration Engineer. During this time, Moore spent most of his time helping to deliver the 2020 Lincoln Aviator Grand Touring. Prior to working at Ford, Moore earned a B.S. in Electrical Engineering at Penn State University where his focus was on power systems. 
As a child, Moore was fascinated with complex consumer products and how they worked internally. His curiosity led him to taking apart everyday products to better understand them.
"I would often take things apart that I interacted with on a day-to-day basis to try and understand how they worked and sometimes put them back together," said Moore. "Little did I know, but it was actually the engineering behind these products that fascinated me."
Moore's passion for engineering didn't happen overnight; it took years of learning and understanding different aspects for him to finally make the realization. While in high school he joined a pilot program called Emerging Engineers for his senior year. In the program, students would take half the day and either job shadow an engineering firm or attend a class at the local college. The job shadowing aspect was the final bit of inspiration needed for Moore to determine the type of engineering he wanted to pursue.
When asked why he decided to join Argonne and the AVTC team, Moore said, "I wanted to pivot to a role where I could continue to engage and interact with the industry, but also get involved with mentoring, teaching, and potentially research." He added, "Argonne, and specifically the AVTC Team, is right at the center of these crossroads and is great example of a symbiotic relationship, where I bring in my years of industry experience to benefit future AVTC's and Argonne provides the opportunity for me to grow and learn in new areas I haven't had as much exposure to over the years."
As Year 1 of the EV Challenge kicks off, Moore has been working heavily on preparing the technical subteam content for teams that encompasses Year 1 and beyond. While he does work with all technical subteams, he's been focusing his current work on the System Design and Integration (SDI) Subteam where he developed training for the recent Fall Workshop.
"Developing the content for Fall Workshop was a balancing act because you have both all-new and returning universities, so we coordinated the content such that everyone benefits from their time commitment," said Moore. "If both new and returning students left with a better understanding of where they will fit into the picture that is EcoCAR EV Challenge, we did our job."
Now that the Fall Workshop has wrapped, Nick is revving up for the upcoming Winter Workshop in Austin, TX February 2023 by preparing hands-on training sessions for students. Follow along throughout the year to hear more from Nick and the rest of the competition organizers.